When it comes to determining which documents to shred, narrowing them down can become quite difficult. That's because, in truth, there a number of documents that could pose a risk if they are not disposed of properly. It's not just about making sure you are compliant, but protecting yourself from other threats, such as corporate espionage.
Shred These Files Regularly
Sales/Marketing Materials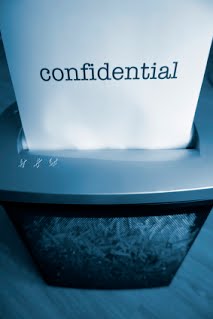 Customer Lists
Prospect Lists
Drafts of Sales Strategies
Operations Information
Proprietary Data
Purchase Orders
Supplier Lists
Procurement Requests
Corporate Records
Hard Drives and Electronic Media Devices
Fax machines, scanners, copiers, and printers
Mobile devices like cell phones, smart phones, PDAs, tablets and laptops
Legacy magnetic media like floppy drives, zip disks and magnetic tapes
RAM and ROM-based storage devices
PC hard drives
Optical media, including CDs and DVDs
USB removable media such as pen drives, thumb drives, flash drives and sticks
Memory cards, including SD, SDHC, MMC, compact flash, microdrive and memory sticks
Embedded flash on boards and devices, including motherboards and peripheral cards such as network adapters or any other adapter containing non volatile flash memory
Biomedical devices such as physiologic monitors, infusion pumps, ventilators, MRI, CT, and diagnostic ultrasound and laboratory analyzers
Accounting Documents
Customer Lists
Accounting Records
A/R and A/P printouts
Bank Statements
Budgets
Unused Checks
Credit Card Statements and Receipt
Employee-related Documents
Any document containing employee addresses or personal information
Outdated Medical Records
Training Manuals
Expired Contracts or Legal Documents
Payroll Documents
Personnel Issues
Legal Documents and Documentation:
Insurance Agency Records
Legal Correspondence
Businesses should create a compilation of the types of records that should be shredded.Bridgeport Shredding Service has a network of providers that offer secure, self-contained, high volume, mobile shredding services that comes directly to your business. Your private records are quickly and securely shredded without the interruption of your daily business functions. We strive to save your business time, money, and labor.

Why Take a Risk? Shred It With Bridgeport Shredding Service!
If you are in need of on site, off site, or hard drive shredding services in Connecticut, Bridgeport Shredding Services is here to help.You'll get a Certificate of Destruction for every visit. Protect yourself and your business today by filling out the form on this page or contacting us at (203) 416-6440.